..se solo sapessi costruirlo.

Questo si trova su un'isola che ha un grande, fantastico progetto da portare avanti.
Tutti gli impiegati,200, di questa compagnia, dal manager al fattorino lavorano a distanza , telelavoro, e sono disseminati in 20 paesi diversi con sede nel New Jersey, ed ora, grazie a quest'isola costruita in SL, possono vedersi l'un l'altro come avatars, frequentare lo stesso ambiente virtuale e fae comunità.
Tutti hanno una disabilità, l'uno diversa dall'altro.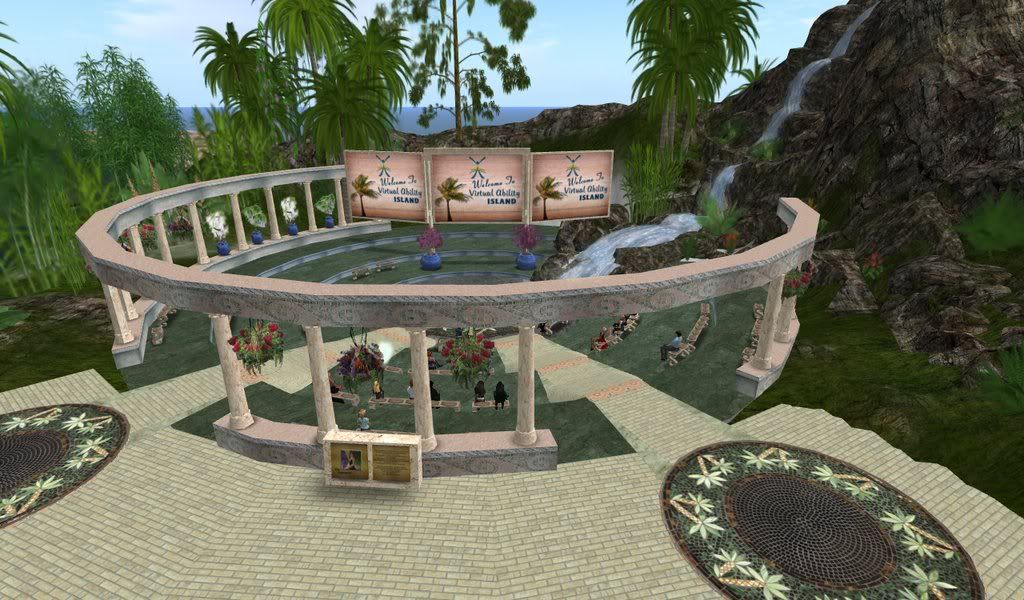 PRESS RELEASE:

CORA CEO ILENE MORRIS-SAMBUR TO SPEAK IN SL

Ilene Morris Sambur, founder and CEO of CORA – Creating Opportunities by Recognizing Abilities – will give a speech in Second Life at The Sojourner Auditorium -
http://www.slurl.com/secondlife/virtual%20Ability/54/169/22 on Virtual Ability Island, Thursday, October 2, at 3pm SLT.

The topics will be educating the business community as to why it makes sound economic sense to hire people with disabilities for remote worker jobs, and why people with disabilities can be the "swing vote" that decides the outcome of Election 2008.

CEO Morris-Sambur has been repeatedly recognized for her innovative efforts in the field of barrier-free solutions and disability employment policy: She is the individual winner of the Department of Labor's 2006 New Freedom Initiative Award, and an inductee to their Circle of Champions - an active network of New Freedom Initiative Award Winners. She was recently commended by the Veterans' Administration for her creation of virtual work environments for spinal cord-injured veterans; and was a participant in the Department of Labor's invitation-only summit on barrier-free workplaces, at the personal invitation of Secretary of Labor Elaine Chao.

She serves as an employment expert on the United Nation's Global Inclusive Technology Initiative Committee whose work recently resulted in the first international treaty of the 21st Century – an accord on the rights of people with disabilities.

CORA is a nationally-based service company providing professional opportunities, training, mentoring, supervision, placement, and outreach for persons with disabilities.

CORA is now embarking upon a nationwide campaign to get the Presidential Candidates and the news media to focus upon the challenges facing "disabled" people in America.

People with disabilities are the largest minority in America. They are also America's most diverse minority, and the poorest minority in America.

Morris-Sambur makes the point that they are also "America's Forgotten Minority," because they are not typically focused upon by politicians or the news media. She says they do not get the same quality or frequency of media attention that other minorities in America get.

Morris-Sambur contends that this is especially unfortunate, because unlike so many of America's major social problems, this problem has a practical, effective solution that has the potential to employ some 21 million people with disabilities who are currently unemployed.

She says that skyrocketing fuel prices, pressures from international competition and increasingly pressing global environmental concerns are changing the way America goes to work, and that Second Life will play a major role in that change.